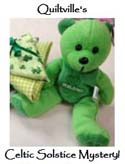 Half square triangles! I love these! This has taken me so long to photograph because I have been working on sewing them, but haven't cut them apart and pressed them.
I'm going to wait until I've finished all of them to put the pinwheels together. Just to make sure I have enough variety!
I'm about half way done sewing these!! I love them!! they're so fun! and they look so great with everything else!